300 Seconds lightning talks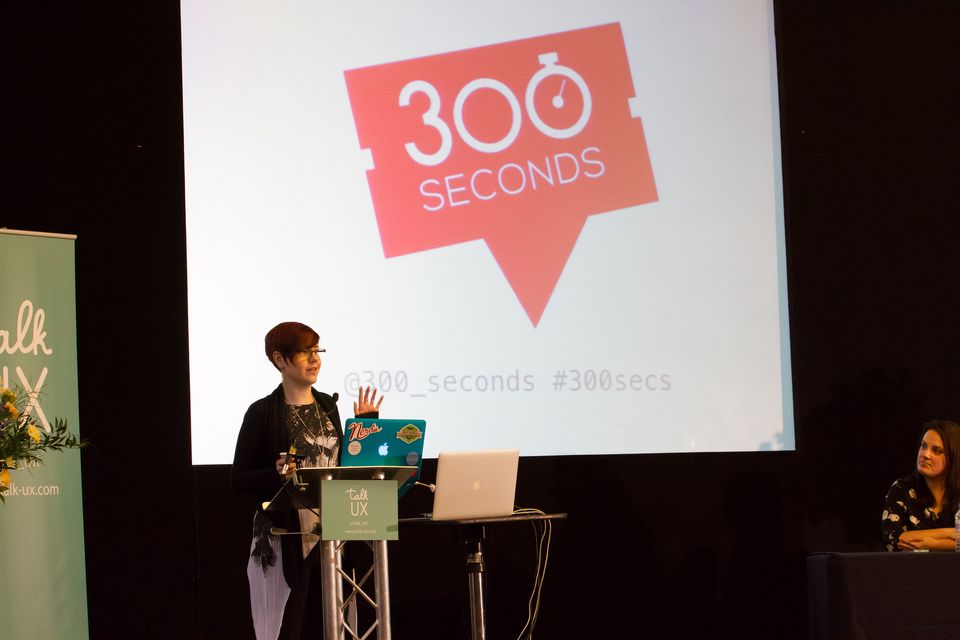 I'm writing from Talk UX, the conference on UX aimed at getting new and differing voices heard.
300 Seconds is an initiative to get more diversity in digital conference speakers by creating lightning sessions for first-time speakers. Given that public speaking is the most common public phobia (surpassing death!) that's no mean feat.
Sandra Gonzalez challenged the current vogue for "teach X to code". While this is useful, she felt it was more important to actually teach children to be designers and makers. To this end, she's teaching them how to paper prototype!
Jody Osborn discussed the work of her PhD research – that thing that every person on twitter has heard from at least one person the know, "I don't get it". Personally, I signed up in 2007, did that exact thing and left, and only came back in 2009 after reading a David Pogue NY Times about how it was actually useful. Why do people not get it? It's easy for seasoned twitter people to forget, but twitter doesn't actually match real life where you follow people you know.
People don't get Twitter because it doesn't map to real world social expectations #TalkUX #300secs

— Claire (@kitation) March 5, 2015
Instead, you follow people you want to know. I can attest to this, it's sometimes been years before I've met a 'twitter friend' in real life.
Karen Reilly, "I'm Irish, so if you don't understand my accent … it's not my fault" suggested that for all of the work that UX designers do to create compelling work, this often isn't reflected in their CVs.  Much like that adage of carpenters and houses.
Reilly suggested that UXers remember to tell their story, show passion, creativity, and emphathy, and embrace their weird
The #ux #cv #talkux #300secs pic.twitter.com/84cPN4DU9S

— Dominic Hurst (@dh_analytics) March 5, 2015
… but not use selfies or say they enjoy socialising with friends (recruiters had that, and I don't blame them … do people really do that?).
Get grammar and spelling right in your CV! And no selfies #talkux #300secs pic.twitter.com/jsQb1j2zt9

— Louise Welby (@LouiseWelby) March 5, 2015
Referencing the great story of "save me from emigration Jobless Paddy" (who got a job through billboards) she embraced the fact that she was from a tiny town in Ireland and used it to tell her UX story. And got a job! The end.
My personal highlight of 300 Seconds was Claire Gowler's talk on gender variance and online services. Based on a blog post she wrote on the topic, Gowler pointed out that 1-4% of UK adults identify as non-binary gender, yet common practices when it comes to asking about gender in UI design don't account for this. What's more, people who identify as gender variant may change their gender frequently depending on their current sense of identity. And is this just because you want to know how to address people? Do you even need to know at all?
She bemoaned forms that try to skip this with torturous examples such as "Doctor (male) , "Doctor (female)".
the free text field is the holy grail for gender identification.
As it turns out, Facebook deals with this well – allowing for up to 5 forms of gender and sexuality identification at any point of time.
Be sensitive to gender variant individuals in your form design – provide options @kitation #300secs #talkux pic.twitter.com/c9kr6xp0UU

— Rick Threlfall (@rick_threlfall) March 5, 2015
But it's a rarity.
For more information she suggested looking at the following resources:
Finally, Andy Parker of Clearleft (the sole male speaker of the day) spoke about his pet peeve when it comes to website – address formats – and more widely how microformats can help improve and even transform content. His talk touched on some of the advantages of cards as mentioned earlier in the day by Emily Heath.
Header image NC-BY-CC from Talk UX.