AccessAbility – access a wider audience, make your digital voice heard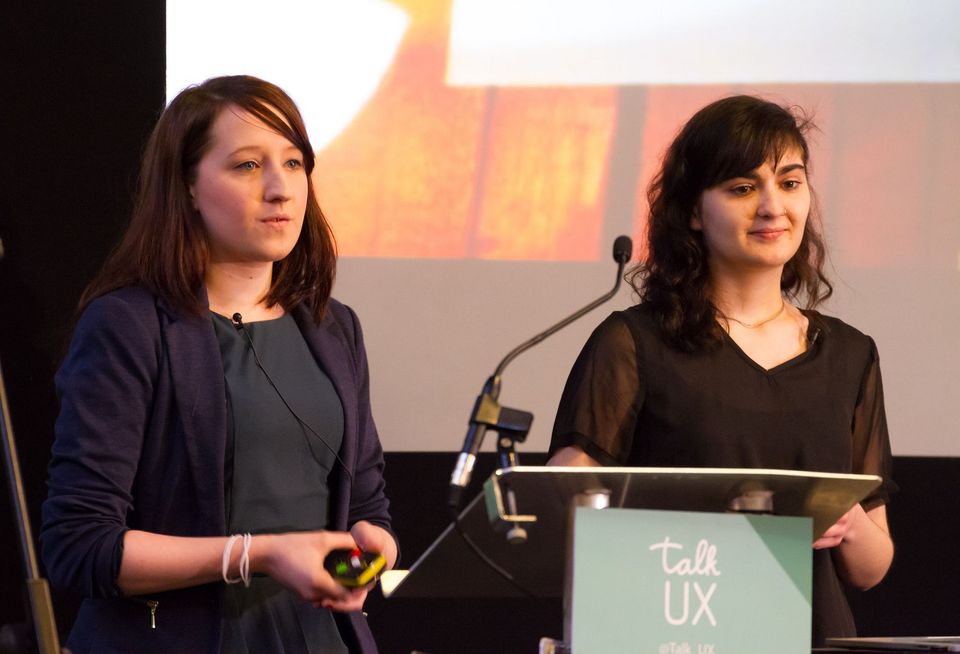 I'm writing from Talk UX, the conference on UX aimed at getting new and differing voices heard.
Rebecca Topps and Elizabeth Chesters gave a number of suggestions for accessibility, covering standard considerations for cognitive impairments but also going beyond this to consider thing such as cultural considerations.
Topps has a personal connection to accessibility – her younger sister has learning difficulties and so she took an interest in accessibility.
They pointed out that accessibility isn't about disability as much as inclusivity: if no one on the internet knows that you're a dog, it at best can also mean opportunities such as allowing a blind person to work as a translator (a real life example from their work with http://www.maccsuso.org.uk ).
They had two particular bugbears with the current status of accessibility: first, that "ARIA tags are not magical fairy dust that make sites accessible" and that "it is pretty shameful that standard Flat UI patterns often fail accessibility tests".
At the very least, you can check colour contrast on sites, with free tools such as the CA Colour Analyser (which the graphic designers at my work use).
More generally, they reminded people to think about readability and culture:
in India a first name isn't required, in China first/last name are flipped
Middle Eastern cultures have weekends on different days of the weeks (Fri/Sat)
Remember that postcodes aren't always the same. I've personally had a huge issue with some of the assumptions that come around postcodes – up until recently New Zealand only had unenforced post codes, and even now they're a 4 digit format which makes them fail until systems that expect 5+ digits or letters. (One Kiwi I know used to retaliate against this by putting his address in at 90210!).
Think multi-lingual: interestingly, in Europe 13% speak English natively, but 18% perfect speak German natively (8% are native Spanish speakers).
Also, following good form and text practices help everyone:
Write for scannability: Wikipedia is a great example as they encourages splitting text with headers and having skip links, "do you read entire articles? Nope, not got time"
Write simply and clearly – the free Hemingway website is a great tool to give to clients to easily analyse if their copy is too wordy
Make forms easy to fill out (CX Partners have a great crib sheet)
Finally, think about challenging your own assumptions be it through recruiting or testing:
Recruiting diverse participants can highlight your own biases e.g. that the UK has an unusual postcode system
Make personas with varying abilities/cultural backgrounds (as it turns out, Whitney Quesenbery has a slidedeck and in fact an entire book relating to this)
They recommended the Attitude Adjustor cards as a way of, well, helping people challenge their assumptions
Since then, I also found a well researched and resourced post on taking the social model of disability online.
Topps' and Chesters' slides are available online.
Header image NC-by-SA by Talk UX.