Tin Kadoic, Foraging for Creativity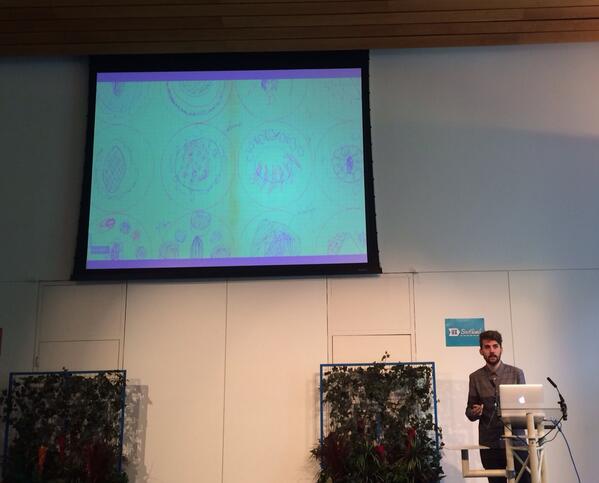 I'm sharing notes from UX Scotland 2014, which took place in Edinburgh Thursday and Friday this week.
The final session I saw of UX Scotland investigated the world's greatest chef. Tin Kadoic compared the principles from the book 'Work in Progress' by renowned Noma chef René Redzepi with examples from UX.
He pulled out 9 rules with examples
Courage: play around with the rules, e.g. Letterpress
Limitations: these can help focus your offering e.g. Clear, Hemingway mode in Draft (which I use)
Teamwork: working with people is always better e.g. Quizup "If you want to join my team for European countries, I'm terrible at that"
Rhythm:  thinking about the rhythm of using an app can help with use (e.g. Foursquare). Louis Rosenfeld has also talked about balance and cadence in UX.
Fun: I felt that this was like 'delighters' that other UXers talk about. Examples include 

Timehop, Basecamp. (I'd also add Mailchimp)

Instinct: Like the John Denver song, you gotta know when to hold, and know when to fold. Specifically, knowing when to challenge instincts can be thrilling, like the fake rain exhibit "which doesn't work if you wear a cheap suit but is otherwise amazing"
[vimeo 51830893 w=500]
Hard work: Pixar throw out far more than they make, and have the results to prove it's worth it.
Positive: the old fashioned version of this is 404 pages, but other ones include what you show when a page is empty. (My favourite is the Gmail one for an empty inbox "yay! No new mail!")
Side projects: Tina Roth Eisenberg aka Swissmiss is a great example of following your bliss in your spare time. (I'd also add Jessica 'procastiworking' Hische).
As part of his list of ways to carry out design work (sparking, sketching, instant feedback, and resources) Kadoic also mentioned a few interesting characters that weren't familiar to the audience:
Bret Victor, "one of my favourite people" has done many experiments with maths and design, such as an intuitive iPad app (from 29:19 in the below video)
[vimeo 36579366 w=700 ]
For inspirational design resources, he loves NL based Works That Work, Explore Create Repeat, and The Great Discontent.
His slides are available below and on Speakerdeck
https://speakerdeck.com/blackduke/foraging-for-creativity