The Magical Orange Bus Tour
With the arrival of my Tier 2 visa (a biometric permit, namely a card that you have to use when travelling along with your passport, I miss having stamped in them) I have finally started working full time as a UX designer at the Newcastle digital design agency Orange Bus. I started there a week or so ago, but as my visa was getting sorted out I carefully adhered to the 20 hours per week allowed on my Tier 4 student visa.
So why Orange Bus? A number of reasons. Firstly, after years in academia I came to the realisation that I missed the buzz and stimulus of studio, as well as the opportunity to learn off others. Also, I'm not properly finished with my PhD as of yet, so was keen to stay in Newcastle so as to keep some continuity (I have to be good and spend my evenings and weekends working on my thesis!).
our funky new @orangebus sign 🙂 pic.twitter.com/lFceE7Lg3B

— Ross Davidson (@BIFW) October 24, 2013
I'd been made aware of Orange Bus thanks to their head of UX Joanne Rigby, who was active on the Newcastle UX circuit and even been involved in some of their local presentation days. It also helped that they've employed international workers in the past (my fellow UXer Sai had to sit out a three month labour shortage time in India, so I've had it pretty easy in regards to visas) and could walk me through the process. And to be honest, any studio that has a well used foosball table and Friday afternoon beer o'clock can't be too bad a place to work at.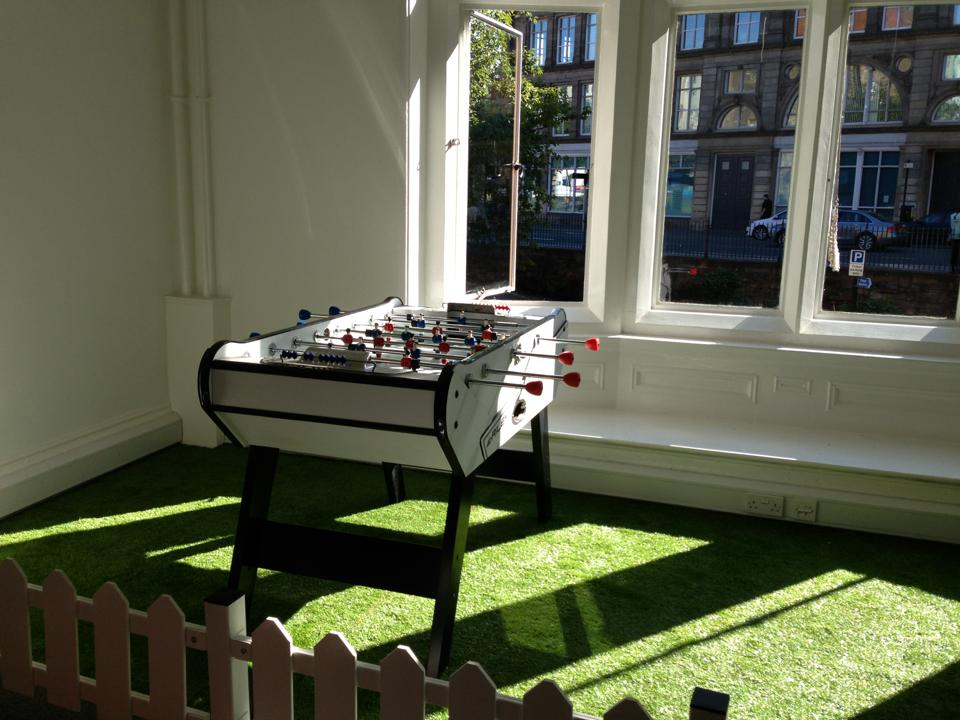 In the short time I've been there, I've learnt a lot about Google Analytics (even taking the free Google training course—get in quick, it closes on the 30th), email tracking codes, and using Windows 8. I've not opened a single MS Office app since I arrived: it turns out that it's surprisingly easy and effective to use Google Drive for pretty much everything. Well, almost everything: there's a point where you have to use InDesign for amazing documents. I'm going to be able to be involved in the setting up of a UX Lab as well, which will be pretty exciting.
Their new fangled studio in Milburn House near Central Station is pretty cool as well. One of my first memories of Newcastle when I arrived in 2010 was in fact with Milburn House: there was an architecture tour and we nearly got locked in the building! It's interesting from an architectural perspective as its past as a maritime building reveals itself in the floor numbering system: rather than having 1,2,3, the lifts show levels A-F just as you would have in a ship.
Interestingly, I've noticed a lot of companies in Newcastle advertising to hire designers, UXers, and developers. I suspect that people have no idea that it's not 'grim up North' at all: in fact the digital industry is thriving and employees are thriving too on the cheap and cheerful cost of living that's made the area a favourite student city.
So, I'm looking forward to my experiences ahead with Orange Bus. And remember, if you ever ask me what I'm doing in the evenings or weekends, remind me that the proper answer should in fact be "working on my thesis"….
[EDIT] I thought that the closest song to the company's name was the famous Beatles song. However, it's been usurped—it turns out there's a fun rock ditty (I say ditty as the band have probably forgotten the lyrics now) called "Magic Orange Bus". Thank you Youtube!