34. Spooky
Ambiguous histories, emergent futures, and classic and not-so classic film and TV viewing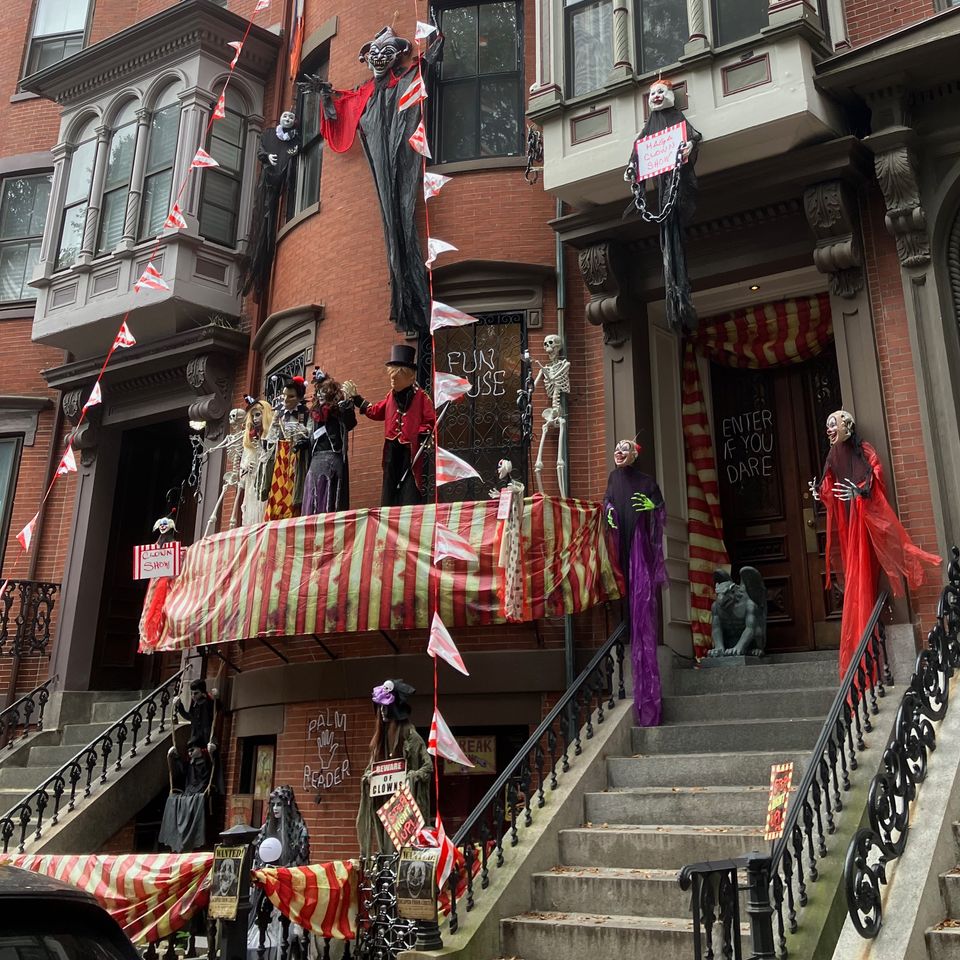 In Michael Herr's superb sort-of Vietnam memoir Dispatches, one refrain is the word 'spooky'. As Mary Karr expertly explains in her book The Art of Memoir, the word not only refers to then-popular pop song, but the lack of certainty about anything at the time—truth, morality, life and death. It feels appropriate for this Halloween month of warring wars.
More benignly, 'spooky' also sums up not only my seeing the US's North East in full Halloween getup (I visited Boston and Cape Cod earlier this month) but also some of my reading and even a conference talk I gave this month.
I thought about how much history gets flattened into a single heroic narrative not only in my talk on design pattern histories, but also when touristing in the US, be it when Henry Wadsworth Longfellow fictionalised much of Paul Revere's ride (and sidelined another rider!), to the author of Jaws realising after the success of his book sharks actually would never kill as they did in his novel, to how the statue of John Harvard is known as "the statue of three lies" as basically all parts of "John Harvard, founder, 1838" are incorrect. It also came up in one of my books of this month (Innovating Emergent Futures) namely in how we fundamentally misunderstand creativity due to our historical take on it.
And to push out the spookiness metaphor just a bit more, some of the more outrageous elements of the Beat Poets—namely Scottish expatriate Helen Adam and her satirical 'Cheerless Junkie's Song'—got the close reading approach when renowned free online course Modern and Contemporary Poetry (ModPo) did a webcast, usually based in Pittsburgh USA, did a webcast at Edinburgh's Scottish Poetry Library. I did a slightly ridiculous there-and-back-in-a-day from Newcastle for the taping (even more so since I'd done a similar there-and-back 2 days before for Design System Day) just because it is such a marvel of interactivity. I did ModPo at the start of the pandemic but hadn't engaged as much in following years (and there is so much that it's possible to repeat is for years as a practice—many have and travel to various tapings to hang out. I wish I had been able to stay for the pub chat afterwards, but even just going to the event and seeing the technical wizardry of panels and dial ins was well worth the trip. You can watch the ModPo webcast on Youtube.
This month in digital government and design
Books
Links
Miscellany
Until next time,
Vicky